Derby is a UK-based corporation that came into being in 1985. Since its inception, the company has seen a great deal of growth in terms of numbers. UK's independent refrigerator and air conditioning parts wholesalers have taken Europe by storm. They are currently regarded as one of the best appliance manufacturers in the UK and offer top-of-the-line refrigeration rolls and air conditioners in the UK. The company has headquarters in Nottingham, and offers services all around the mainland and nationwide in the UK. in addition, they have paired with a few retailers that offer its products all around the world.
There is a time in your life when the most reliable appliance you have starts to show an error. While it might be a dark day, fortunately for you there is a simple solution for most error codes. To help you out we have accumulated a complete list of the Derby Air Conditioner error codes. Offering you a chance to find out exactly what is wrong with your appliance, so you can finally make a decision. Rather than fighting with the appliance, or spending endless money on the repair, we suggest you first find the problem and then look for a solution.
Codes and Fixes
| Error Codes | Led Status |
| --- | --- |
| E0 | EEPROM parameter error |
| E1 | Indoor / outdoor units communication protection |
| E2 | Zero-crossing signal error |
| E3 | Fan speed out of control |
| E5 | Open or short circuit of outdoor temperature sensor (T4) |
| E6 | Open or short circuit of room (T1) or evaporator temperature sensor (T2) |
| P0 | Outdoor PCB protection |
| P1 | Over voltage or too low voltage protection |
| P2 | Temperature protection of compressor top. |
| P4 | Inverter compressor drive error |
Note: E4 & P3: Reserved function
Diagnosis and Solution
E0 (EEPROM parameter error) error diagnosis and solution
Circuit or software error on indoor PCB ⇒ Replace indoor PCB
E1 (indoor / outdoor units communication protection) error diagnosis and solution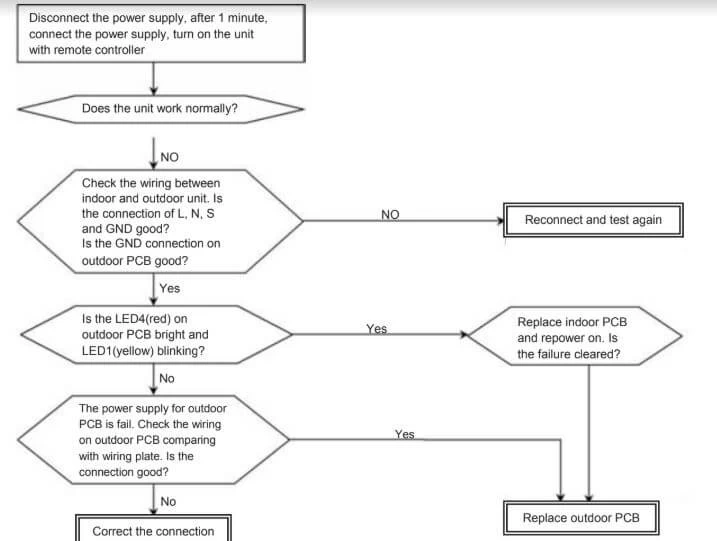 E2 (zero-crossing signal error) diagnosis and solution

E3 (indoor fan speed out of control) diagnosis and solution

Troubleshooting
*Unit does not star:
Power cut. Wait for power to be restored.
Unit may have become unplugged. Check that plug is securely in wall receptacle.
Fuse may have blown. Replace the fuse.
Battery in Remote controller may have been exhausted. Replace the battery.
The time you have set with timer is incorrect. Wait or cancel timer setting.
*Unit not cooling or heating (Cooling/ heating models only) room very well while air flowing out from the air condtioner:
Inappropriate temperature setting. Set temperature correctly.
Air filter is blocked. Clean the air filter.
Doors or Windows are open. Close the doors or windows.
Air inlet or outlet of indoor or outdoor unit has been blocked. Clear obstructions away first, then restart the unit.
Compressor 3 minutes protection has been activated. Wait.
If the trouble has not been corrected, please contact a local dealer or the nearest customer service center. Be sure to inform them of the detailed malfunctions and unit model.
Failure Indications

Manuals
Derby Air Conditioner Manual PDF-1
Derby Air Conditioner Manual PDF-2
Derby Air Conditioner Manual PDF-3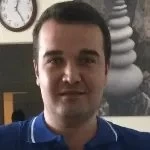 Latest posts by Danny Reese
(see all)