Carrier Infinity Series AC Error Codes
Status Codes
Table 6 shows the status codes flashed by the amber status light. Most system problems can be diagnosed by reading the status code as flashed by the amber status light on the control board. The codes are flashed by a series of short and long flashes of the status light. The short flashes indicate the first digit in the status code, followed by long flashes indicating the second digit of the error code. The short flash is 0.25 seconds ON and the long flash is 1.0 second ON. Time between flashes is 0.25 seconds. Time between short flash and first long flash is 1.0 second. Time between code repeating is 2.5 seconds with LED OFF. Count the number of short and long flashes to determine the appropriate flash code. Table 6 gives possible causes and actions related to each error.
EXAMPLE: 3 short flashes followed by 2 long flashes indicates a 32 code. Table 6 shows this to be low pressure switch open.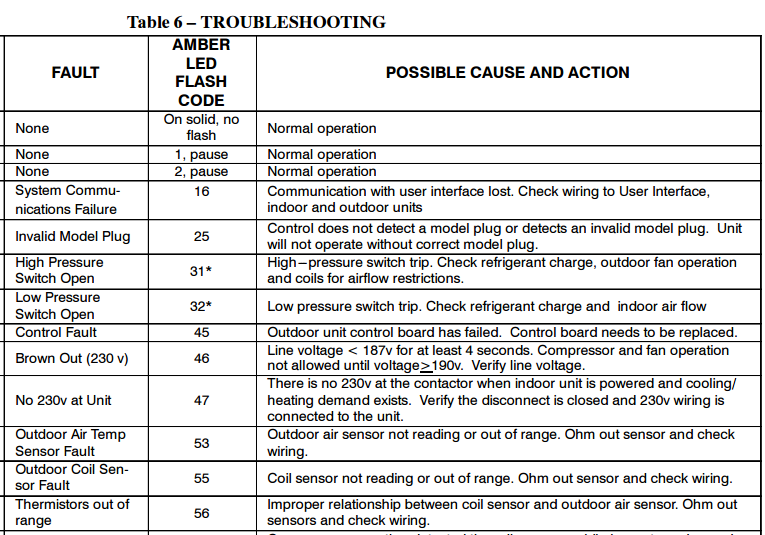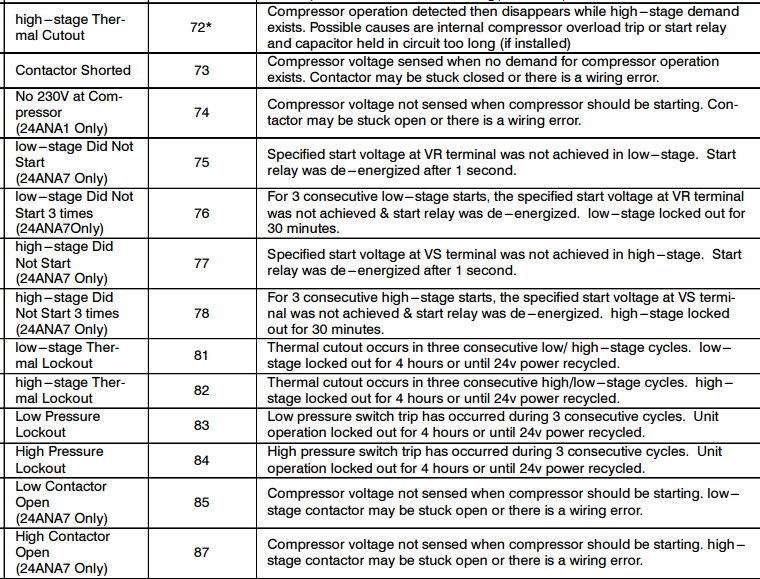 * Sequence: Compressor contactor is de —energized and outdoor fan is energized for up to 15 minutes. If demand still exists, control will energize compressor contactor after 15 minute delay. If fault is cleared, unit will resume operation. If fault still exists, fan shuts off, and error code continues to flash. Control will attempt re —start every 15 minutes. Cycling low voltage defeats the 15 minute delay.
Carrier Infinity Series Manual