ActronAir is an Australian company that was established back in 1984. Since its inception, the company has been working on manufacturing and distributing world-class air conditioning technology along with other appliances that make your home and office a smart and efficient working system. Offering you a wide range of reliable appliances ActronAir caters to local markets in the best way possible.
Being an Australian original it understands the heat, humidity, snow, and rain weather conditions – making them an expert on the matter. This way they are able to offer customers an appliance that will last for years while offering them exceptional workings.
Regardless of how high a company is ranked, or how well the appliance is reviewed, you are at the risk of an error. An error is not here to tell you it's time to switch out your appliance, it's a direct signal from the device – one that tells the owner something is wrong with the system that needs to be fixed. So rather than ignoring the error codes, your appliance is showing its time to note down the Actron ac error code and troubleshoot to get to the bottom of the problem. To help you out we have listed down the most common error codes.
Most Common Codes
| Error Codes | Problem |
| --- | --- |
| E1 | Outdoor coil sensor open or closed circuit |
| E2 | Fault indoor coil out sensor |
| E3 | Fault room sensor |
| E4 | Fault indoor coil sensor |
| E5 | Communication error between outdoor and indoor |
| E6 | Fault Discharge temperature |
| E7 | Fault outdoor coil sensor |
| E8 | Fault outdoor discharge sensor |
| E9 | High or Low Pressure/Phase error |
E3: System has detected less than 2 sensor ( Ultima requires at least 2 sensors in circuit) or, a remote sensor is short circuit.
E5: No Communication. The system is constantly relaying information back and forth. This indicates the communication is not happening. Contact your installer to check your wiring and cable's integrity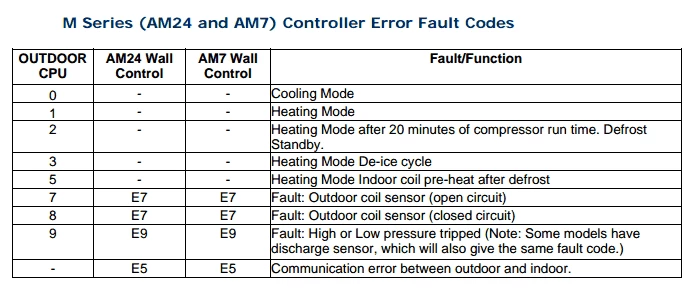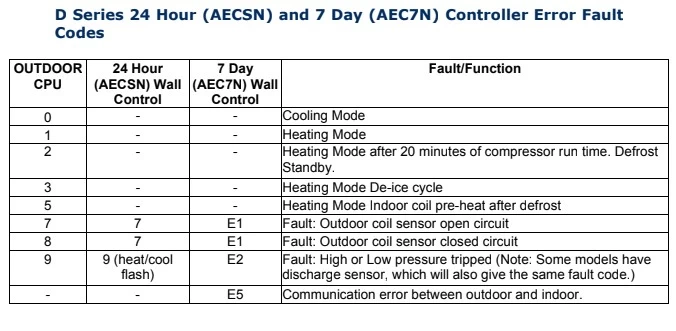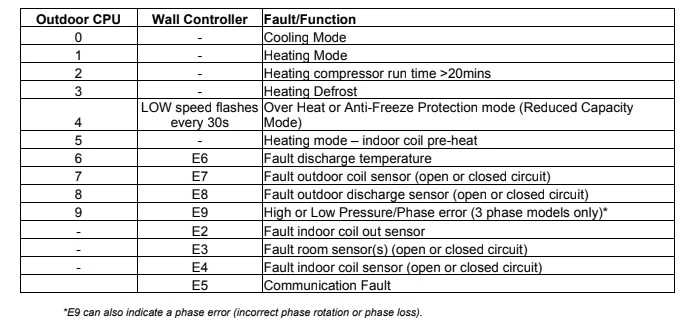 AC Remote Control Display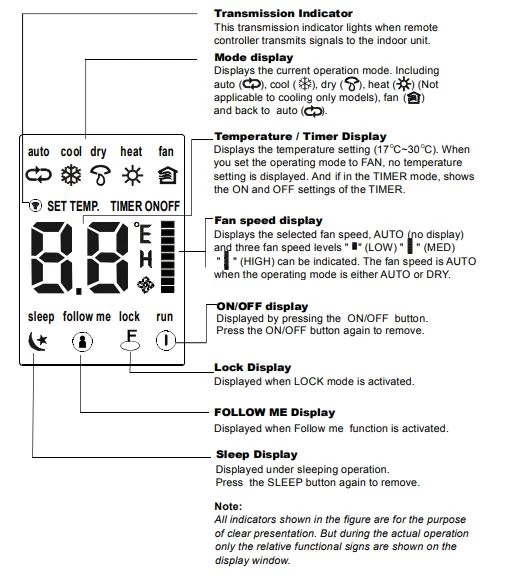 AC System Control Alarm Mix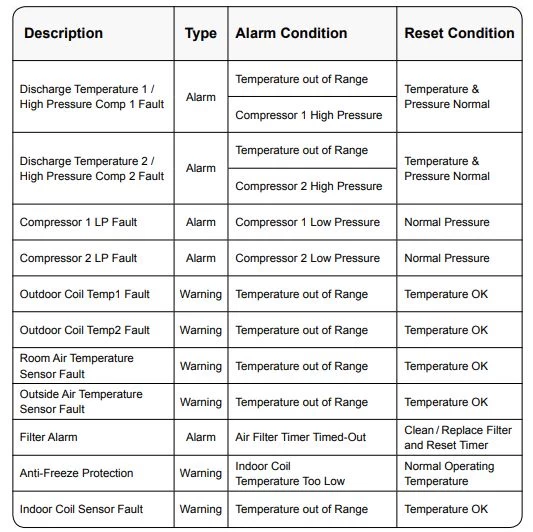 Troubleshooting
Conditions: The system does not start.
Remedy:
Check that 5 minutes has passed from the time you turned the system on as there are in-built safety timers.
Check thermostat settings are correct.
Check thermostat set point is low enough for cooling or high enough for heating.
Check the Master Controller is set to the correct mode for COOL/AUTO/HEAT.
Conditions: Air does not flow.
Remedy:
Check if the unit is set in the correct mode COOL/AUTO/HEAT.
Check your zone control is turned on. If using sensor ensure your zone is on at the master.
During defrost cycle of the outdoor unit in heating mode, the indoor fan will not operate. Defrost cycle is indicated when the heat LED on the master control is flashing.
Conditions: OFF is displayed on my zone control and I can not turn it on.
Remedy: This means the Master Controller is turned off. First turn on your air conditioner at the master control. You will now be able to turn on your zone control.
Frequently Asked Questions
1- I can not adjust my set point on my zone controller any more than 2 degrees higher or lower than the master controller.
-2 degrees is the the default setting for master temperature offset. ActronAir recommend this 2 degree offset to optimise temperature control and maximize energy efficiency. Moving this settings outside +/-2 degrees will result in temperature inaccuracy
2- Cooling and Heating seems to take a long time to achieve temperature in ESP fan mode. Am I using the correct settings?
-ESP fan mode really comes into it's own when minimal zones are used. For quicker and more responsive Cooling and Heating when using more than minimal zones, select High or Cont High fan speed on the master control. This will boost heating and cooling and is best optimized when you want to condition more than the minimal zone set up.
3- Cooling and Heating is not sufficient in my zone.
-Air balancing is essential part of system commissioning in Ultima system. The duct design may be prohibiting the correct amount of airflow reaching your area. Please contact your installer to ensure air balancing has been carried out.
4– There is substantial air noise coming from my outlet.
-If the outlet gets too noisy when the unit or zone is first turned on, the system maybe over supplying airflow to your area. Ensure ESP fan mode is used when using minimal zones.Please contact your installer to ensure air balancing has been carried out.
5- There are dashes across my control display
-Make sure you have not had a power cut out. If this is still present on the display after 20 seconds, please contact your installer. Incorrect wiring or a broken circuit could also cause these symptoms
Manual Pdf
Actron AC Troubleshooting – Error Fault Codes PDF
Reference: www.actronair.com.au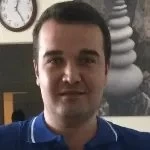 Latest posts by Danny Reese
(see all)