Chunlan Group Corp is a Chinese business with headquarters based in Taizhou, Jiangsu province. The founder Tao Jianxing started the business back in 1985, and gradually expanded its products in the air conditioning market. However, the business underwent a complete revamp in 1993 and is currently the leading manufacturer of air conditioning units in China.
To a point where the company has expanded into three businesses covering automobiles, new energies, and electrical appliances. Offering the world a taste of the leading technology in various industries. However, its main focus remains its air conditioning units, which come in a wide variety that fits almost everyone's needs.
There is a time in your life when the most reliable appliance you have starts to show an error. While it might be a dark day, fortunately for you there is a simple solution for most error codes. To help you out we have accumulated a complete list of the Chulan Air conditioner error codes. Offering you a chance to find out exactly what is wrong with your appliance, so you can finally make a decision. Rather than fighting with the appliance, or spending endless money on the repair, we suggest you first find the problem and then look for a solution.
In case of repeated protections of air conditioner, cut off power supply and have failure corrected by specialty maintenance personnel, before restarting the machine.
Fault Messages
| Error Codes | Problem |
| --- | --- |
| E0 | High pressure protection |
| E1 | Antifreeze protection |
| E2 | ID ambient temp probe short circuit |
| E3 | ID pipe temp probe short circuit |
| E4 | OD pipe temp probe short circuit |
| E5 | Communication failure |
| E6 | Phase sequence protection |
| E7 | Overcurrent protection |
| E8 | Load relief protection |
| E9 | Low pressure protection |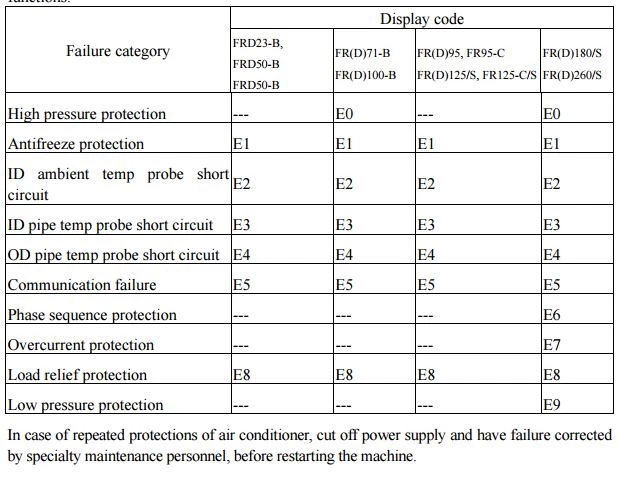 Troubleshooting
In case of AC failure, immediately cut off power supply. Check the following before requesting maintenance:
Failure: Machine not operating
Causes:
Power off
Power not meeting requirement
Molten fuse or open CB
Correction measures:
Use when power is resumed
Check power supply before use
Replace fuse or close circuit breaker
Failure: Machine operating at poor cooling/heating efficiency, or not cooling or heating
Causes:
Clogged air strainer
ID or OD unit air intake clogged
Improper temp control setting
Open door/window
Correction measures:
Clean air strainer
Remove obstacles
Reset temperature control
Close doors/windows
This air duct type air conditioner is our latest home (commercial) centralized air conditioning product.
This product features high efficiency, energy saving, mild and silent operation, computerized intelligent control and healthy fresh air etc.
In addition, wire and wireless controls are provided for easy operation.
The product can be widely used in large area, multi-room composite compartment/houses, villa, and medium and small restaurants, bars, leisure and recreation sites.
Remote Control Buttons Meaning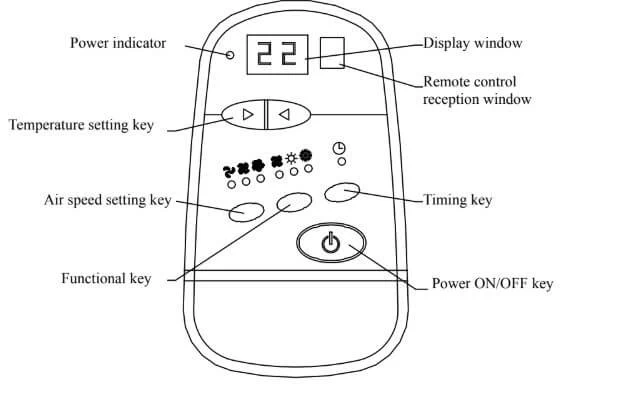 Note:
1. For relevant models and parameters provided in this manual, actual products and nameplate information shall govern;
2. This manual has been carefully checked. In case of printing error, our company shall not bear responsibility for the consequences.
3. Our company is in constant technology advancement and product series and sizes will be adjusted from time to time. Please note information of our new products.
Under following conditions, program controlled electric system will automatically detect failure.
Wire Controller Codes
| Failure | Failure Analysis |
| --- | --- |
| 3 occurrences of anti-freeze protection | When 3 consecutive such protection signals are detected in 1h, AC unit stops, wire controller displays E1, you can only put it into operation after re-powerup. Check for normal cooling system; check for bad contact at ID pipe temperature sensor connection; check for broken wire or short circuit at sensor; if normal, check if R6 on indoor board is 10K. |
| ID ambient temp probe broken wire (short circuit) | Wire controller displays E2, put it into operation after re-powerup. First check ID ambient temperature sensor connection for bad contact, check for broken wire or short circuit in sensor; if normal, check if R7 on ID board is 10K. |
| ID pipe temp probe broken wire (short circuit) | Wire controller displays E3, put it into operation after re-powerup. First check ID pipe temperature sensor connection for bad contact, check for broken wire or short circuit in sensor; if normal, check if R6 on ID board is 10K |
| OD pipe temp probe broken wire (short circuit) | Wire controller displays E4, put it into operation after re-powerup. First check OD pipe temperature sensor connection for bad contact, check for broken wire or short circuit in sensor; if normal, check if R5 on ID board is 10K. |
| Remote control failure | Check for normal remote control receiver; Check for normal remote control transmitter; Check for normal remote controller. |
| No cooling function | Check for normal temperature sensor RT1; Check for normal DC12V, DC5V power supply; Check for reliable connection of output ports of compressor, ID/OD fans; Check for main control board damage. |
| No heating function | Check for normal temperature sensor RT1; Check for normal DC12V, DC5V power supply; Check for reliable output port connection of compressor, reversing valve, ID fans and OD fans; Check for main control board damage. |
| Indoor fan failure | Check for intact connection of indoor unit wiring terminal and damage of main control board; Check for intact indoor fans; Check for intact fan capacitors. |
| Outdoor fan failure | Check for intact connection of outdoor unit wiring terminal; Check fordamaged main control board; Check for intact outdoor fans; Check for intact fan capacitor. |
| Main control board PCB1 not operating | Check for molten FU fuse; Check for normal DC12V, DC12V output on main control board 7812-3 pin, and DC12V input on wire controller; Check for normal DC5V, DC5V output at main control board 7805-3 pin, and DC5V on wire controller RG1-3; Check crystal circuit on main control board and for normal voltage at crystal oscillator pins of chips 1 and 2; Check for normal resetting circuit 7042 on main control board. |
| Communication failure | In case of communication failure between main control board and wire controller, the latter displays E5, and you can only put it into operation after re-powerup. Check for reliable welding on main control board CN6 and wire controller CN1 needle seat, reliable insertion of cards and broken or short circuit of communication line; Check for DC12V input on wire controller, DC5V output on main control board 7805-3 pin, and DC5V on RG1-3 of wire controller; Check normal voltage on main control board 2003 driving block; Check for normal voltage on crystal oscillator pin of main control board and wire controller; Check for normal voltage at communication input/output of main control board and wire controller. |
Manual Pdf
Chunlan Air Conditioner Manual PDF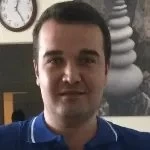 Latest posts by Danny Reese
(see all)