Hayakawa Metal Works, now commonly known as Sharp Corporation, was founded back in 1912. This Japanese multinational corporation design manufactures and sells electronics worldwide. With headquarters in Sakai-Ku, the Japanese multinational company is majorly owned by the Foxconn Group. Sharp is one of the few companies that were late to develop its basic range of appliances but nonetheless were able to cover the gap in a few years.
That was because at that point in time Sharp Corporation brought a different solution to the table, offering appliances that were cost-effective and energy-saving. Offering customers a great deal more than they were getting from standard appliances.
Error codes are a common issue you may face with various appliances in your house or workplace. Rather than panicking, we suggest you grab a pen and paper and note down the code rather than pressing various buttons. This can commonly result in prolonging the issue or even causing more issues in the long run. So why risk damaging your appliance any further, when you will be able to find out the exact issue using the common error code list for Sharp air conditioner error codes listed below. Once you know the exact issue you can easily call in a professional, or fix the issue yourself.
Codes List
| Error Codes | Problem |
| --- | --- |
| EE | Buttons are locked |
| E0 | Water pump malffunction |
| E1 | High pressure protection of compressor |
| E2 | Indoor anti-frozen of compressor |
| E3 | Low pressure protection of compressor |
| E4 | Air discharge high-temperature protection of compressor |
| E5 | Overload protection of compressor |
| E6 | Transmit malfunction |
| E8 | Indoor fan protection |
| E9 | Water flow protection |
| FF | Connected control communications Failure |
| F0 | Malfunction of indoor environment sensor at air return vent |
| F1 | Evaporator sensor malfunction |
| F2 | Condenser sensor malfunction |
| F3 | Outdoor environment sensor malfunction |
| F4 | Malfunction of air discharge sensor |
| F5 | Malfunction of environment sensor on displayer |
| ee | Malfunction of outdoor drive memory chip. Outdoor drive board. |
| H3 | Compressor over load protection. Compressor overload switch. |
| H4 | Overload protection. Evaporator temperature, condenser temperature. |
| H6 | Malfunction of outdoor fan motor. Outdoor fan motor. |
| U7 | Direction changing malfunction of 4-way valve. |
| P6 | Communicatio n malfunction between main control and drive. |
| EE | Malfunction of outdoor main control memory chip. Outdoor main control board. |
ES: If this display reads "ES" or "AS", a sensor has failed. Contact your Authorized Sharp Service Center.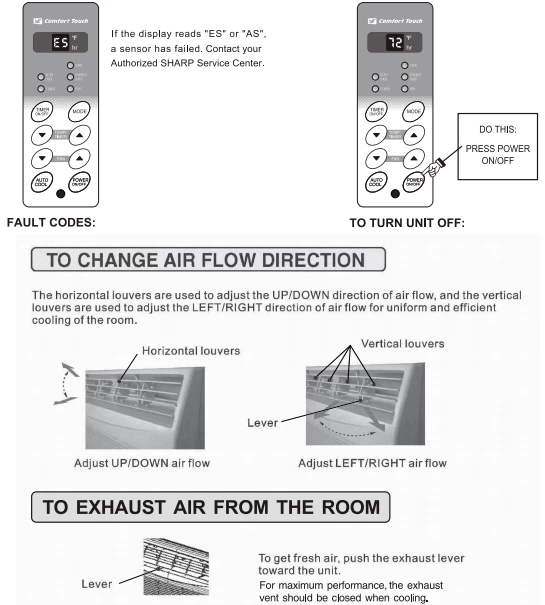 Outdoor Unit Codes
| Error Codes | Meaning |
| --- | --- |
| PH | DC busbar over-voltage protection |
| P8 | IPM or PFC over-temperature protection |
| Pc | Current sense circuit error |
| P7 | IPM or PFC temperature sensor error |
| P5 | Compressor current protection |
| PL | DC busbar under-voltage protection |
| Lc | Compressor startup failure |
| P0 | Drive module reset |
| H7 | Compressor motor desynchronizing |
| Ld | Phase loss |
| P6 | Drive-to-main-control communication error |
| H5 | IPM protection |
| H3 | Compressor overload protection |
| PA | AC current protection (input side) |
| PU | Charging circuit error |
| HC | PFC protection |
| H6 | DC fan error |
| PP | Input AC voltage abnormality |
| EE | Driving board memory chip error |
Troubleshooting
| Symptom | Troubleshooting |
| --- | --- |
| Air conditioner does not run if attem pt to immediately restart after a stop. | To protect the air conditioner upon immediate restart after a stop, the microcomputer controller will delay the unit for 3 minutes before the air conditioner will run. |
| Air conditioner blows out bad smell when it is initially started. | The air conditioner itself has no bad smell. If a bad smell has been accumulated from the environment, clean the airfilter. |
| You may hear ''Water Flowing'' noise | When the air conditioner is started, or the compressor is started or stopped during running or the air conditioner is stopped, sometimes you may hear fluid gurgling noises. This is not a fault - it is the sound offlowing refrigerant. |
| Sometimes a thin mist will flow out of the outlet when air conditioner is running under cooling mode. | This might occur when indoor temperature and humidity are high. This is because the indoor air is quickly cooled down. After a period of time, the mist will disappear with the decrease of indoor temperature and humidity. |
| You may hear a slight cracking sound when the air conditioner is started or stopped. | This is the sound of friction caused by expansion and/or contraction of panel or other parts due to the change of temperature. |
| The unit will not run | Has the power been shut down? Has the circuit breaker device tripped off? Is the Timer correctly used? Have the wiring or connections been a damaged?P |
| Cooling (Heating) efficiency is not good. | Is Temp. setting suitable? Are inlet and outlet vents obstructed? Are the windows and doors closed? Is the fa n speed_set at low speed? Is there too much dust accumulated and obstructing the filter? |
| Wireless remote control is not working | Check that there is no magnetic or electrical interference near the main unit that may be affecting the operation of the controller. |
| Water is dripping or leaking from the indoor unit | The air humidity is on the high side. Condensing water has overflowed. The connection of indoor unit drainage pipe has been loosened. |
| Noise from indoor unit | Fan or compressor relay is switching on or off. When defrosting is started or stopped, there is a sound of refrigerant flowing in the reverse direction. |
| Moisture on air outlet vent | If unit is running under high humidity for a long time, moisture will be condensed on the air outlet grill and may drip off. |
Cleaning The Filters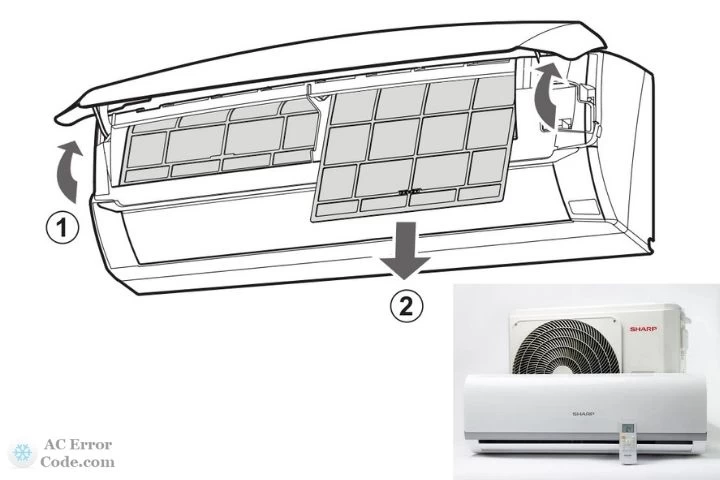 Be sure to disconnect the power cord from the wall outlet or turn off the circuit breaker before performing any maintenance.
Turn off the unit.
Remove the ilters. Lift the open panel. Pull the air ilters down to remove them.
Clean the ilters. Use a vacuum cleaner to remove dust. If the ilters are dirty, wash them with warm water and a mild detergent. Dry ilters in the shade before reinstalling.
Reinstall the ilters and close the open panel.
Remote Control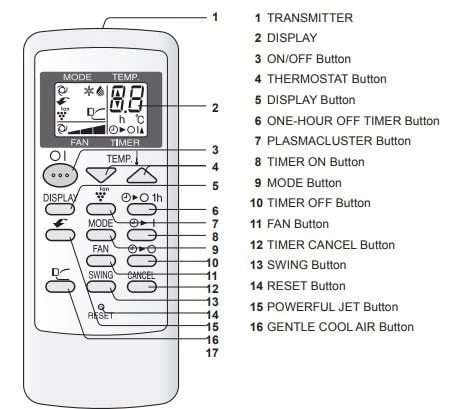 Wiring Diagram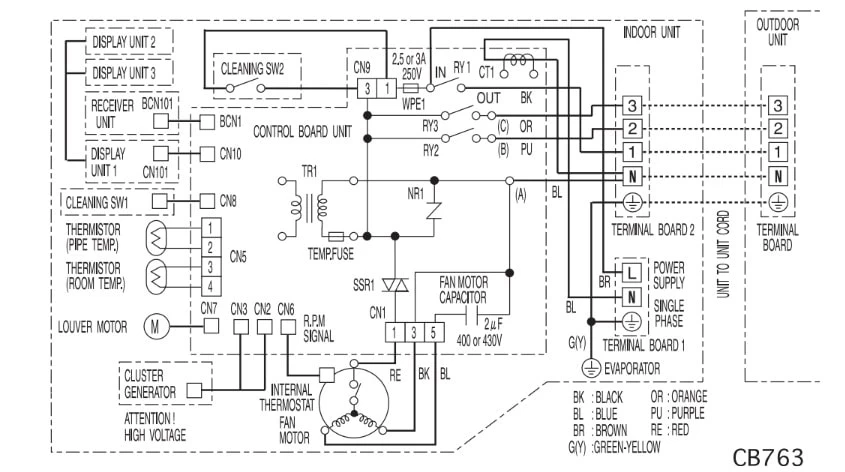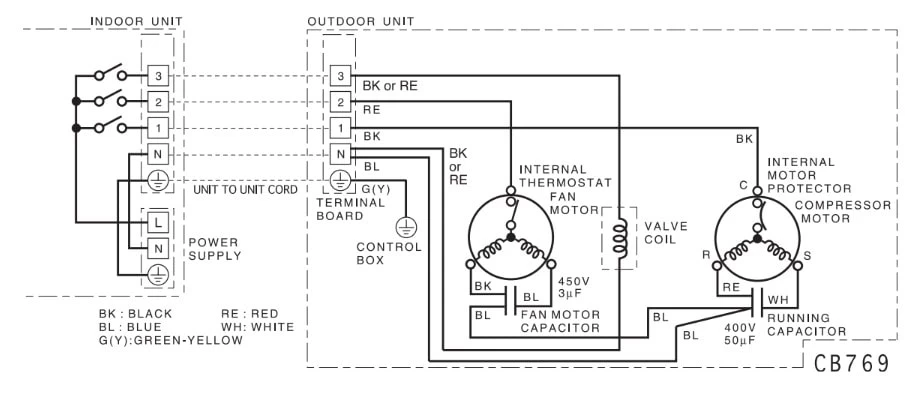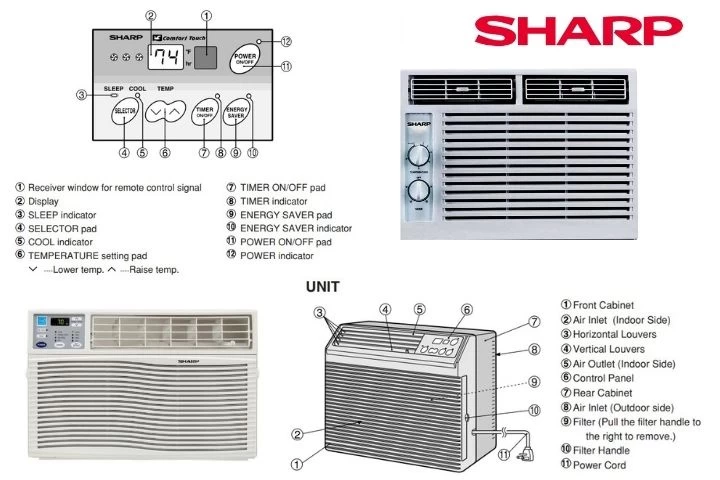 Manuals Pdf
Sharp Air Conditioner Manual PDF
Sharp Air Conditioner Service Manual PDF
Sharp Window AC Installation And Operation Manual AF-S50EX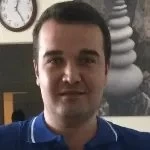 Latest posts by Danny Reese
(see all)