May 1, 2019
Videocon Air Conditioner Error Codes
Air conditioners had been installed self diagnosis system to display the information for the units.
| Error Code | SeIf-check code of Iuminotron | SeIf-check information |
| --- | --- | --- |
| Indicates ''dF'' or Heating icon flash | Flicker 1 time/1s | Defrost indication |
| Fan motor picture not running | Flicker 1 time/1s | Anti cold wind |
| E2 | Flicker 1 times/8s | Room temperature sensor fault |
| E3 | Flicker 2 times/8s | Coil temperature sensor |
| E8 | Flicker 3 tlmes/8s | Over heat protection/Defrosting |
| E5 | Flicker 6 times/8s | Indoor fan fault |
| E7 | Flicker 7 times/8s | External feedback fault |
| E0 | Flicker 3times/8s | Open the door fault |
| E1 | Flicker 4 times/8s | Outdoor tube temperature sensor faults |
| E6 | Flicker 6 times/8s | (EEPROM) communication failures |
| FF | Flicker 1 times/1s | North American environment outside temperature erceeds the scope |
Note: Above self check information is commonly applicable in our most air conditioners,but some are special,you can refer to the User's Manual for information or contact the dealer or authorized maintenance people for help.
Selection of installation positions for outdoor unit
To install the outdoor unit at the places which can stand the load of the machine weight and will not cause big vibrations and noises;
To install the unit at the places not to be exposed to rain or direct sunshine, and the places with good ventilation;
The noises generated from the unit will not affect the neighboring places;
Do not install the unit on non-metal frame;
Not to install the unit at the places where there might occur the generation, inflow, stay or leakage of inflammable gases;
Pay attention to the drainage of the condensed water from the base plate during operations;
To avoid the air outlet being directly against the wind.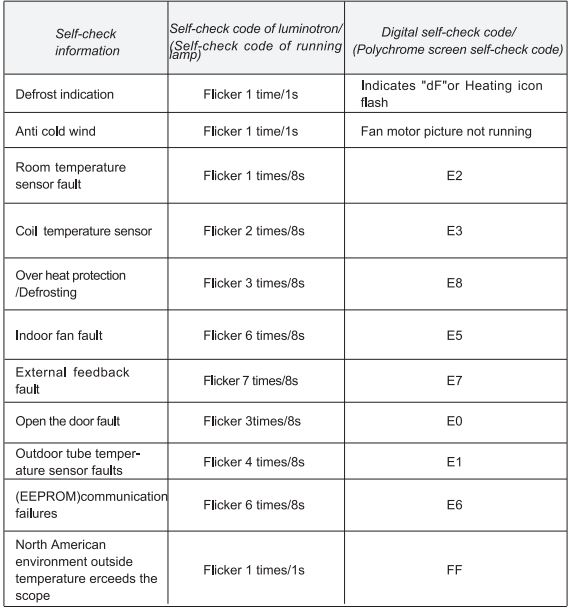 Selection of installation positions for indoor unit
To be installed at the position where the air delivered from the unit can reach every corner of the room;
To avoid being affected by the outdoor air;
To avoid blockage to the air inlet or outlet of the unit;
To avoid too much oil smoke or steam;
To avoid possible generation, inflow, lingering or leakage of flammable gases;
To avoid high-frequency facilities (such as high frequency arc welders, etc.);
To avoid the places where acid solutions are frequently used;
To avoid the places where some special sprayers (sulfides) are frequently used.
Not to install on top of the musical instruments,TV,computer etc.valuab|e appliance.
Not to install a fire alarming device near the air outlet of the unit (during operation, the fire alarm device might be erroneously triggered by the warm air from the unit);
Videocon VS5C3 Series Installation And Repair Manual PDF



*PLEASE SEND ME ANY COMMENT, SUGGESTION OR CORRECTION YOU MAY HAVE.