May 6, 2021
TCL Air Conditioner Error Codes
Protection and Fault Codes;
| Error Codes | Problem |
| --- | --- |
| E0 | Indoor/outdoor communication fault |
| EC | Outdoor communication fault |
| E1 | Room temperature sensor (IRT) |
| E2 | Indoor pipe (coil) temperature sensor (IPT) |
| E3 | Outdoor pipe (coil) temperature sensor (OPT) |
| E4 | System abnormal |
| E5 | Model configuration wrong |
| E6 | Indoor fan motor fault |
| E7 | Outdoor temperature sensor |
| E8 | Exhaust temperature sensor |
| E9 | Intelligent power module of drive and module fault |
| EF | Outdoor fan motor fault (DC Motor) |
| EA | Current sensor fault |
| EE | EEPROM fault |
| EP | Temperature switch fault (on top of the compressor) |
| EU | Voltage sensor fault |
| EH | Intake temperature sensor |
| P1 | Overvoltage / undervoltage protection |
| P2 | Overcurrent protection |
| P4 | Exhaust overtemperature protection |
| P5 | Subcooling protection under cooling mode |
| P6 | Overheating protection under cooling mode |
| P7 | Overheating protection under heating mode |
| P8 | Outdoor overtemperature / undertemperature protection |
| P9 | Drive protection (software control ) |
| P0 | Module protection (hardware control) |
Protection and Failure Display;
When protection display is available, controller will show error code, digital LED shows error code and setting temperature by turns.
If there is more than one failure, it will show at first that in front of the error list.
Protection display function can be selected in hardware, and the default don't display;
To insure of in and out communist is credibility, the failures relate to outdoor unit will remain failure state for 2 minutes max after recovered.
In all failures, only sensor failures don't have to repower to cancel.
Error list;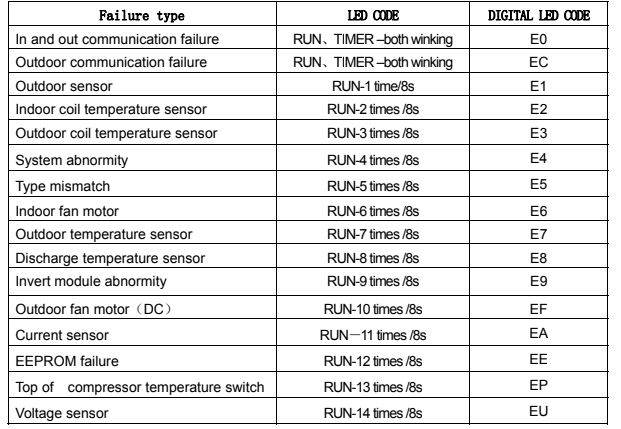 Protection display code list: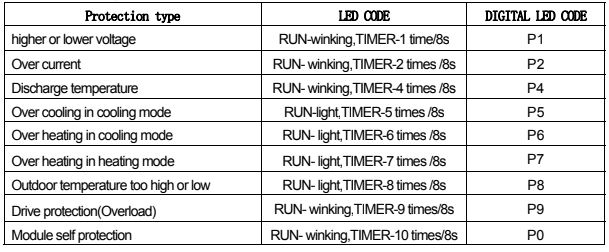 Outdoor failure display;
There is a LED on outdoor power board, when compressor is running; it is normally light; when no feedback of signal to power board from compressor, it will wink by lighting 1s and going out 1s. If failures happened, it will light 0.5s, go out 0.5s, winking several times and go out 3s for a cycle to indicate failures.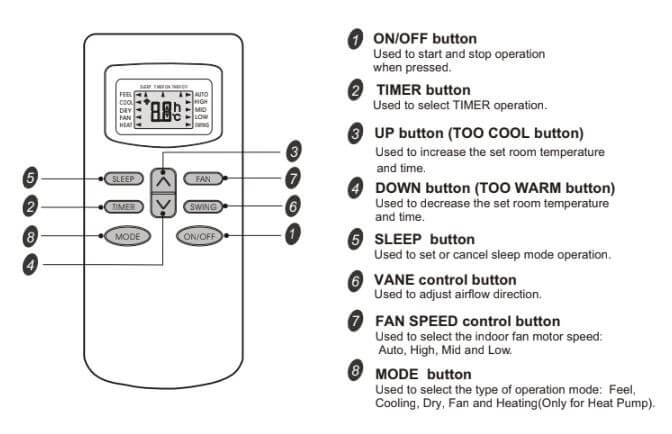 The failure list is the follow:
Wink time/Failure
1: IPM protection
2: higher or lower voltage
3: Over current
4: Discharge temperature too high
5: Outdoor coil temperature too high
6: Drive abnormity
7: Communication abnormity with indoor unit
8: Compressor over heat(switch on top of compressor)
9: Outdoor air temperature sensor failure
10: Outdoor coil temperature sensor failure
11: Outdoor discharge pipe temperature sensor failure
12: Voltage sensor failure
13: Current sensor failure
14: IPM abnormity
15: Outdoor communication abnormity
16: DC fan motor no feedback
17: defrosting
TCL Portable Air Conditioner Error Codes:
This appliance has a self diagnosis system to identify a number of malfunctions. If an error message is displayed, please refer to the below table.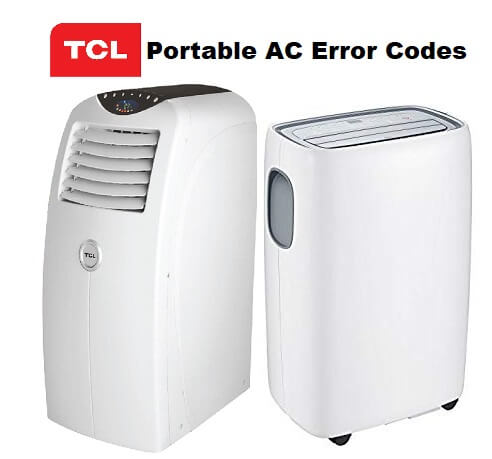 | Error Codes | Problem |
| --- | --- |
| Lt | Low Temperature ( frost prevention). Action: The appliance is fitted with a frost protection device to avoid excessive formation of ice. The appliance starts up again automatically when the defrost process is completed. |
| PF | Probe Failure ( sensor damaged). Action: If this is displayed, contact your local authorised service centre. |
| Ft | Full tank ( safety tank full). Action: Empty the internal safety tank. |
| AS | If the screen on the unit displays 'AS', the room temperature sensor has failed. Contact your Authorize Service Center. |
| ES | If the screen on the unit displays 'ES', the pipe temperature sensor has failed. Contact your Authorize Service Center. |
| P1 | If the screen on the unit displays 'P1', the water collection tank inside the unit should be full. If error repeats, contact your Authorize Service Center. |
Model: TCLPAC10/TCLPAC12, TAC-08CPA/HC-TAC10CPA/HC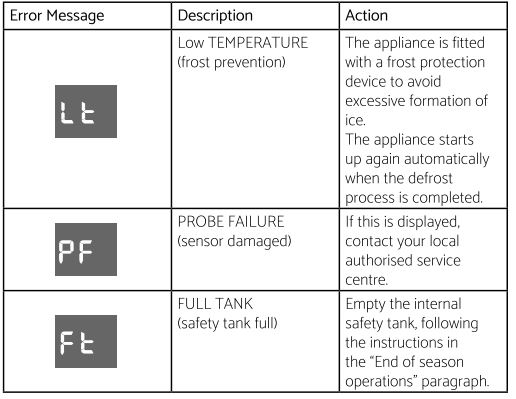 TCL Air Conditioner Troubleshooting
Problem: Air conditioner will not start
Possible Causes:
The air conditioner plug is not completely inserted into the electrical outlet.
The fuse is blown or the circuit breaker has tripped.
Power failure.
P1  appears in the display.
Room temperature is less than the set temperature.
Solutions:
Make sure electrical plug is plugged completely into alive. properly grounded outlet.
Replace the fuse or reset the circuit breaker. Make sure that there are no other appliances on the same circuit.
If a powerfailure occurs, turn the power OFF. When power is restored, wait 3 minutes before restarting the air conditioner.
The water collection tank is full. Drain the tank and reset your settings.
This is normal. The air conditioner automatically shuts offwhen the room equals or is less than (Cool mode) or is more than (Heat mode)the set temperature. Adjust the temperature setting, if needed.
Problem: Air conditioner does not cool properly
Possible Causes:
Airflow is restricted.
The airfilter is dirty.
The room is very hot, or not enough time allowed for cooling.
Cold air is escaping.
Cooling coils have iced up.
Solutions:
Make sure there is sufficient clearance around the air conditioner and that the air inlet and outlet are not blocked.
Clean the air filter at least every two weeks.
When first turned on, allow the air conditioner sufficient time to cool the room.
Check for open furnace.floor registersmold air returns, open windows or doors.
In especially cool, humid weather and when the air conditioner is running frequently or for extended periods, ice can form on the cooling coils, blocking air flow. It is normal, please adjust the temperature higher and High fan speed.
Problem: Air conditioner runs too often or too long
Possible Causes:
Area to be cooled is too large for the air conditioner.
Doors or windows are open.
Solutions:
Consult your dealer for the air conditioner capacity necessary to cool the desired area.
Make sure doors and windows are closed.
Cleaning The Filters:
To keep your air oonditionerworking efficiently, you should clean the filters every week of operation. Grasp the upper panel tab and take off the filterwhioh behind the grill of the back panel as shown the rightfig. Wash the filter using liquid dishwashing detergent and warm water. Rinse filter thorougth Gently shake excess waterfrom the filter. Be sure filter is thoroughly dry before replacing. 0r, instead of washing you may vacuum the filter clean. Replace the filter after the filter is dry.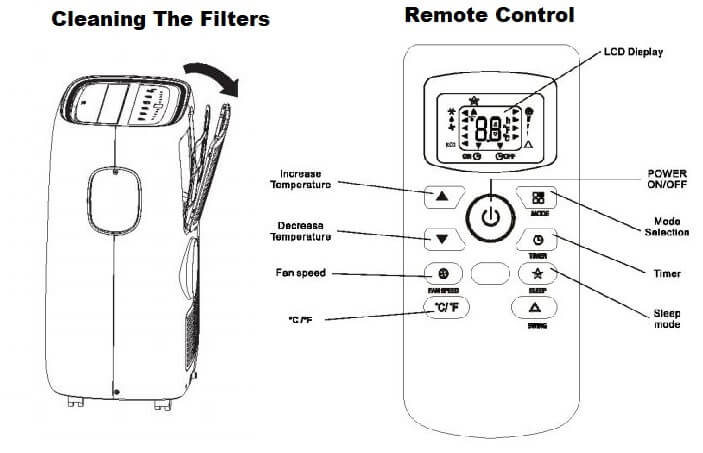 The eebinet and front may be dusted with an oiI-free cloth or washed with a cloth dampened in a solution of warm water and mild liquid dishwashing detergent. Never use harsh cleaners, wax or polish on the cabinetfront. Be sure to wring excess waterfrom the cloth before wiping around the controls. Excess water in or around the controls may cause damage to the air conditioner.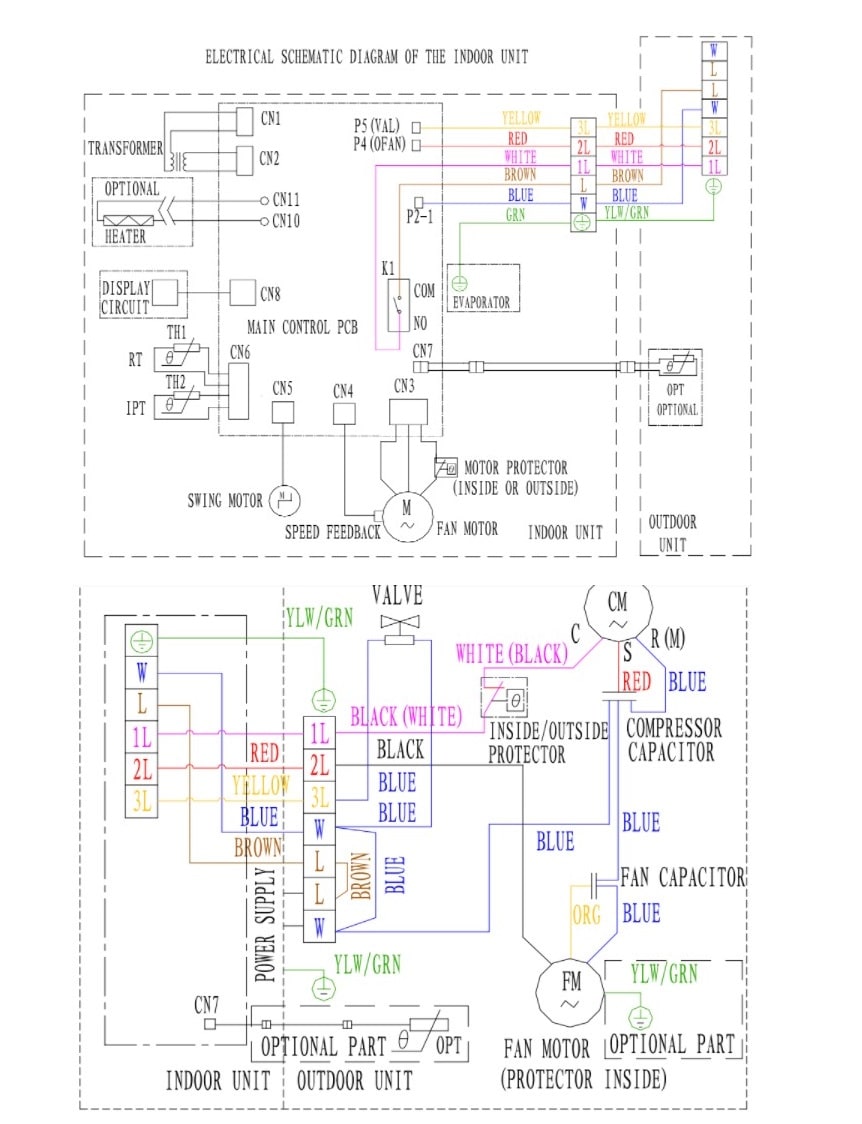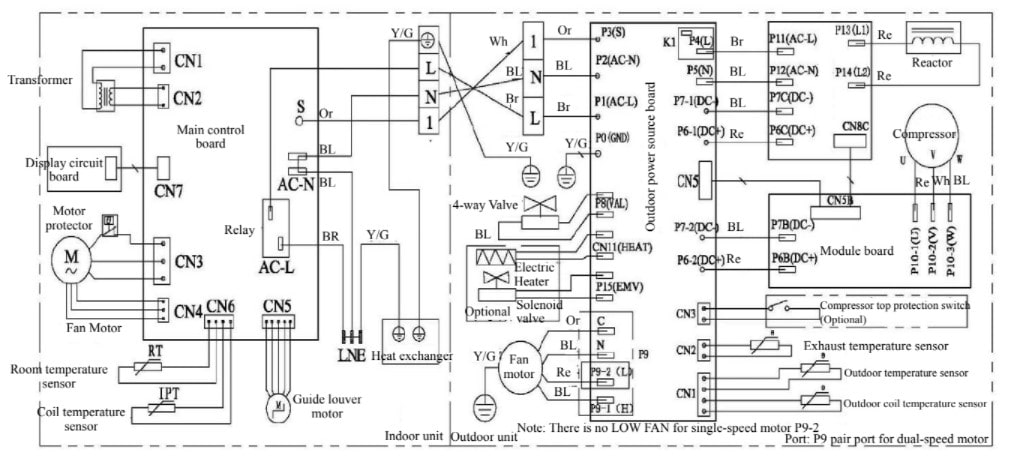 TCL Portable Air Conditioner Manual PDF



*PLEASE SEND ME ANY COMMENT, SUGGESTION OR CORRECTION YOU MAY HAVE.